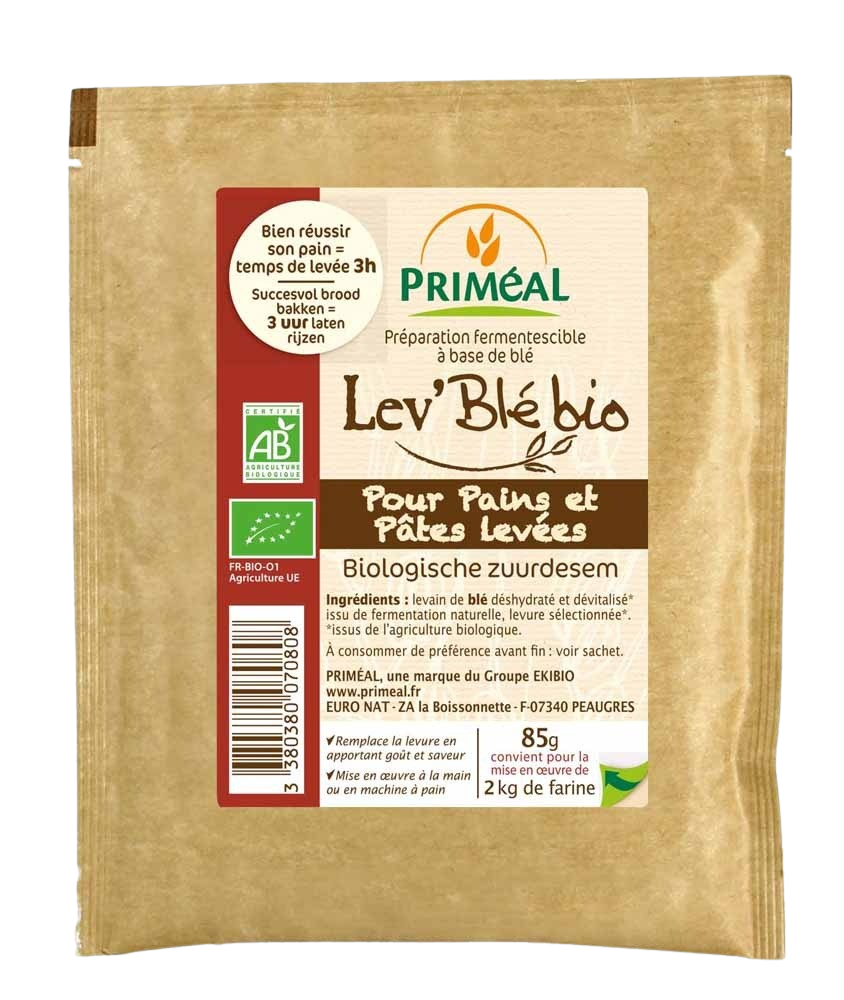 ORGANIC WHEAT LEAVEN 85G/8
From organic farming
Net weight : 0,7 kg
Cooking : 45 mn
Description
Priméal sourdough is made from organic wheat ground into flour, then hydrated and fermented. Adds texture and flavour to your breads.
Ingredients
Dehydrated and devitalised WHEAT sourdough* from natural fermentation, selected yeast*.



* organically grown
Detailed preparation advice
Here is the secret to successful use:



By hand: mix 500 g flour + 8 g salt + 21 g organic wheat sourdough powder (= 2 heaped tbsp) + approx. 350 ml warm water (approx. 28°C). Knead for about ten minutes to obtain a soft but not sticky dough. Leave to stand for 30 minutes in a bowl covered with a damp cloth. Take the dough and slightly push out the air that has entered to form your loaf. Cover the dough again and let it continue to ferment in a room at 20°C for 3 hours and put it in a hot oven (220-230°C) for about 45 minutes.



In a bread machine: pour the ingredients into the bowl and follow the wholemeal bread programme (choose the longest programme)
Where to buy
Nutritional values
Energy value
1 580 kj / 373 kcal
Fat content


of which saturated fatty acids

2,1 g


0,4 g

Carbohydrates


of which sugars

68,2 g


1,5 g

Fibers
7,8 g
Protein
16,5 g
Additional information
Store in a cool, dry place. After opening, close the bag tightly.
EU agriculture