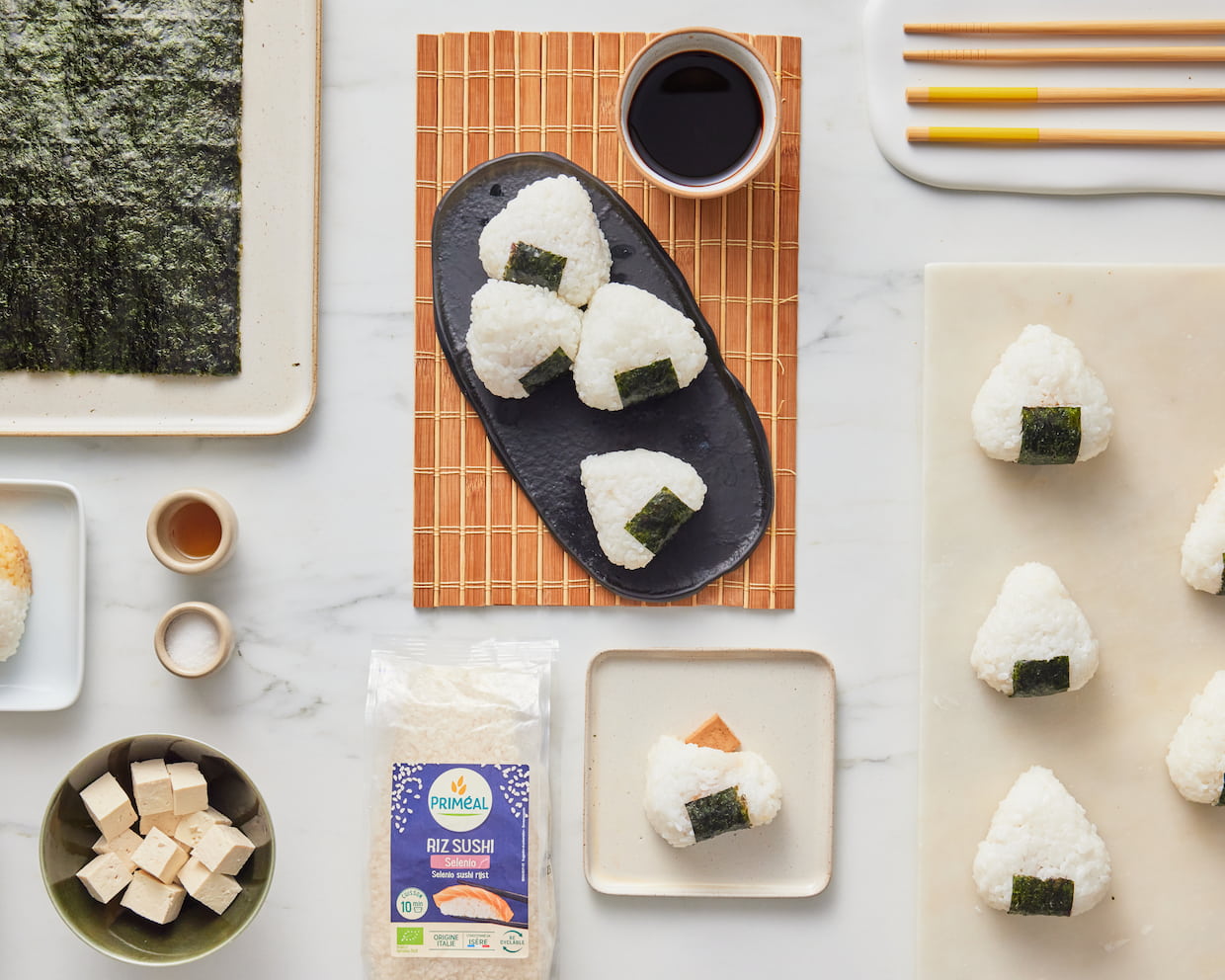 VEGETARIAN ONIGIRI | EASY VEGGIE RECIPE
Onigiri is a pressed rice dumpling, often in the shape of a triangle, and usually filled with meat and wrapped in a small piece of nori seaweed. Discover our vegetarian onigiri recipe made with our sushi rice, with a little surprise inside: a cube of tofu marinated in soy sauce and sesame oil.
4 Persons
37 minutes
Cooked in water
Components
200 g Priméal sushi rice
2 tbsp. rice vinegar
1 sheet of dried nori seaweed
100 g tofu
1 tbsp. salted soy sauce + more for serving
sesame oil
unrefined salt 
Recipe
Step 01
Step 01 Rinse the rice several times until the rinse water runs clear. Transfer to a saucepan. Pour in 40 cl of water. Bring to the boil and then reduce the heat to a minimum. Cover.
Step 02
Cook for about 12 minutes, then remove from the heat and leave to swell for another 10 minutes, still covered.
Step 03
Add the rice vinegar and salt. Mix.
Step 04
Dice the tofu. Add the soy sauce and a drizzle of sesame oil in a soup plate. Stir to coat well.
Step 05
Moisten your hands and make a ball of about 50 g of rice. Make a hollow and add a cube of tofu. Close up into a ball and form a triangle. Decorate the onigiri with a piece of nori leaf.
Step 06
Repeat the process until there is no more rice. Serve with soy sauce.
Our inspirations in the same category
Don't miss it!