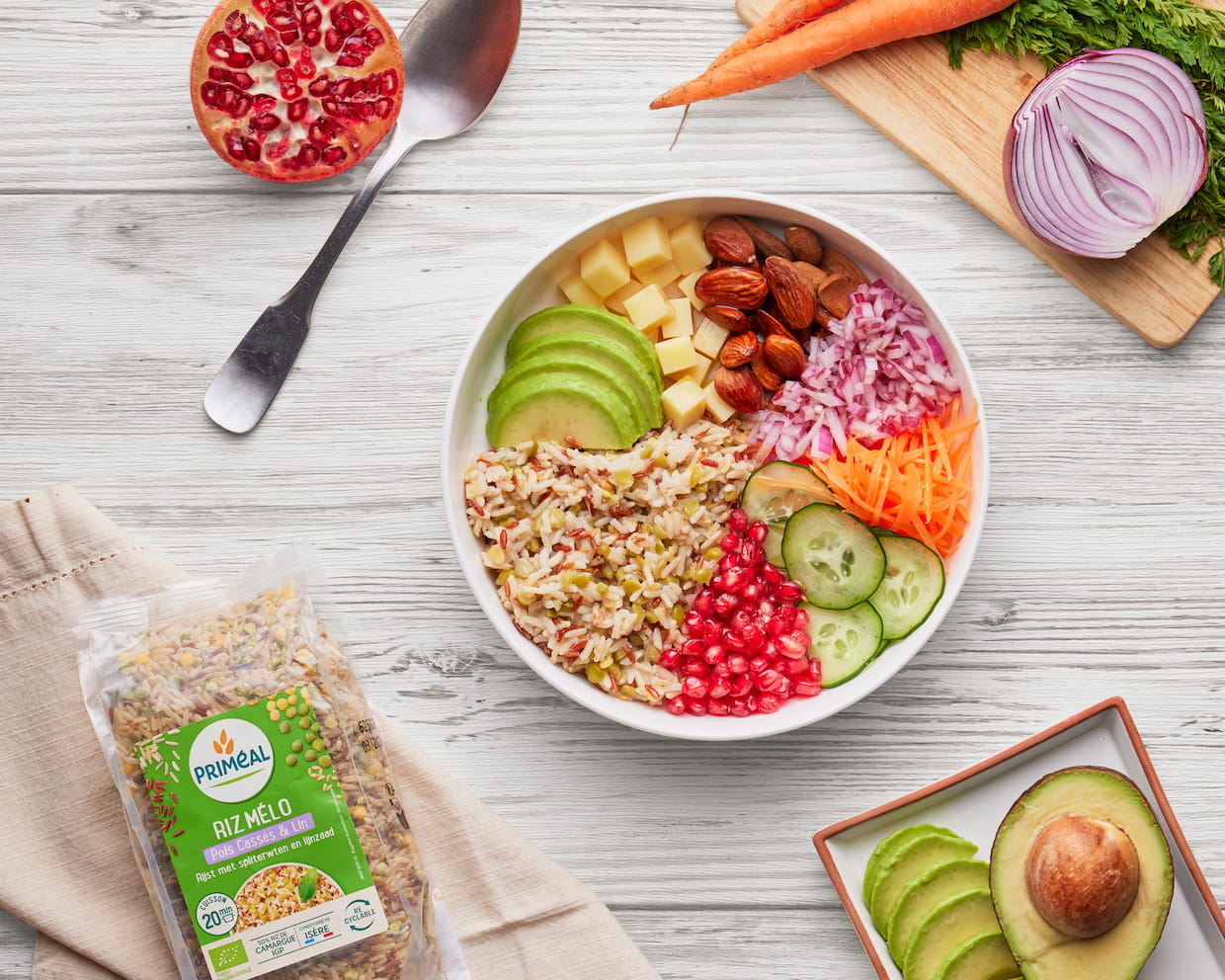 MIXED RICE AND SPLIT PEA BOWL
Colours, textures, different flavours... In addition to be a feast for the eyes, this bowl is a complete meal in itself. Priméal Mixed Rice with Split Pea and Flaxseed is the perfect complement to this dish of vegetables, oilseeds, diced cheese and pomegranate seeds.
2 Persons
35 minutes
Cook in water
Components
1 red onion 
1 avocado
2 carrots
½ long cucumber or ½ black radish
125 g Priméal mixed rice, split pea, flaxseed mix
1 handful of almonds
1 handful of diced comté cheese or Gruyère cheese
seeds from a quarter of a pomegranate
olive oil
cider vinegar
salt
Recipe
Step 01
Thinly slice the peeled red onion and place it in a small bowl Add a dash of vinegar and salt, mix and set aside.
Step 02
Cook the rice according to the instructions on the packet. Cut the carrots into julienne strips and the cucumber or black radish into thin slices. Cut the avocado in half. Remove the core and slice equally.
Step 03
In 2 shallow dishes, arrange all the ingredients next to each other: carrot, Priméal rice mix, cucumber or black radish, red onion and avocado. Add almonds, pomegranate seeds, diced cheese.
Step 04
drizzle with olive oil, vinegar and sprinkle with a small amount of salt.
Our inspirations in the same category
Don't miss it!