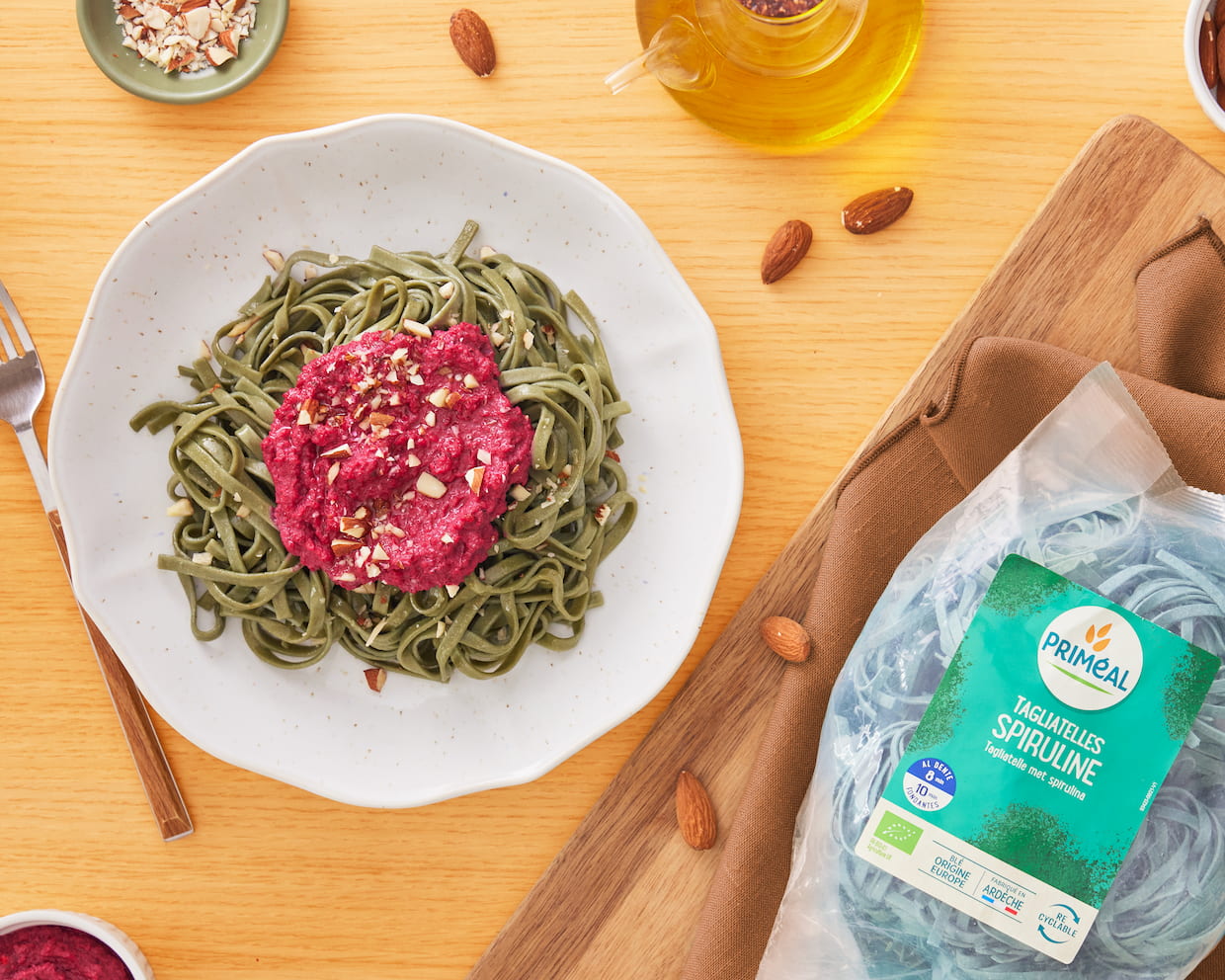 BEETROOT AND ALMOND PESTO TAGLIATELLES
We are most familiar with basil pesto, but we can make delicious flavoured pesto-type sauces to suit our preferences and the season with vegetables and nuts (hazelnuts, walnuts, pine nuts, etc.) as a base.
Spinach, radish or carrot tops, fresh basil or parsley... or beetroot, as shown here, in the form of a purée, carrots, celery, etc... The variations are infinite.
I have been working for almost a year with Priméal, an organic food brand (cereals, flour, seeds, tomato sauce, etc.). You probably know this brand if, like me, you regularly visit healthfood stores. You can also find my recipes directly on the Priméal blog.
3 Persons
18 minutes
Cooked in water
Components
250 g Priméal fresh egg tagliatelle
200 g cooked red beetroot
60 g whole almonds (can be replaced by hazelnuts)
4 tbsp olive oil + for the pasta
1 clove garlic 
fleur de sel or other unrefined salt
2 pinches Espelette chilli or pepper
Recipe
Step 01
Prepare the beetroot pesto. Dry-roast the whole almonds in a small saucepan or frying pan, stirring them regularly. Pour the roasted almonds into a blender and blend to a powder. Add the diced cooked beetroot, the olive oil, the peeled and chopped clove of garlic, the chilli or pepper, and finally two generous pinches of salt. Blend to the consistency of pesto. Pour into a jar or bowl. Put to one side.
Step 02
Cook the tagliatelle in boiling salted water for 7 to 9 minutes, depending on the desired consistency. Drain and add a tablespoon of olive oil.
Step 03
Mix the pasta with the beetroot pesto and serve immediately.
Our inspirations in the same category
Don't miss it!