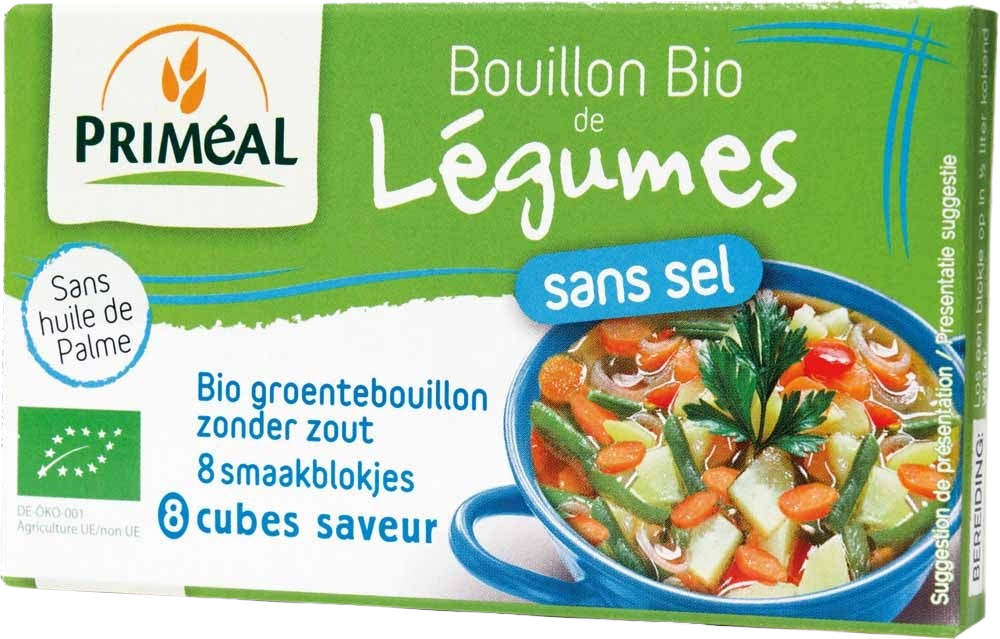 VEGETABLE BROTH WITH NO SALT ADDED 72G
From organic farming
Net weight : 0,1 kg
Commitments
Recyclable packaging
Description
The salt-free vegetable broth concentrates a wealth of vegetable flavours. Practical for spicing up your dishes without adding salt!
Ingredients
Shea butter*, vegetables 20% (tomatoes*, CELERY*, onions*, carrots*, leeks*, parsnip*), corn starch*, glucose syrup*, blond cane sugar*, yeast extract, spices* and herbs* (garlic*, lovage*, mace*, parsley*, CELERY leaves*, turmeric*, oregano*, rosemary*, thyme*, ginger*), concentrated vegetables* juice (CELERY*, carrots*, onions*) olive oil*, caramel*, sunflower oil*.



*Organically grown
Intolérances :
Gluten, celery, egg, milk, mustard, soy.
Detailed preparation advice
Dissolve one cube in ½ litre of boiling water. Use it to make stocks broths



or as a culinary aid to flavour the water used to cook



cereals or pasta, or to enhance the taste of your dishes in sauce



(vegetable stews, etc.).
Where to buy
Nutritional values
Energy value
2 142 kj / 514 kcal
Fat content


of which saturated fatty acids

31,2 g


14,7 g

Carbohydrates


of which sugars

48,2 g


20,6 g

Fibers
6,8 g
Protein
6,4 g
Salt
0,2 g
Additional information
Keep away from humidity and heat.
EU / Non EU agriculture