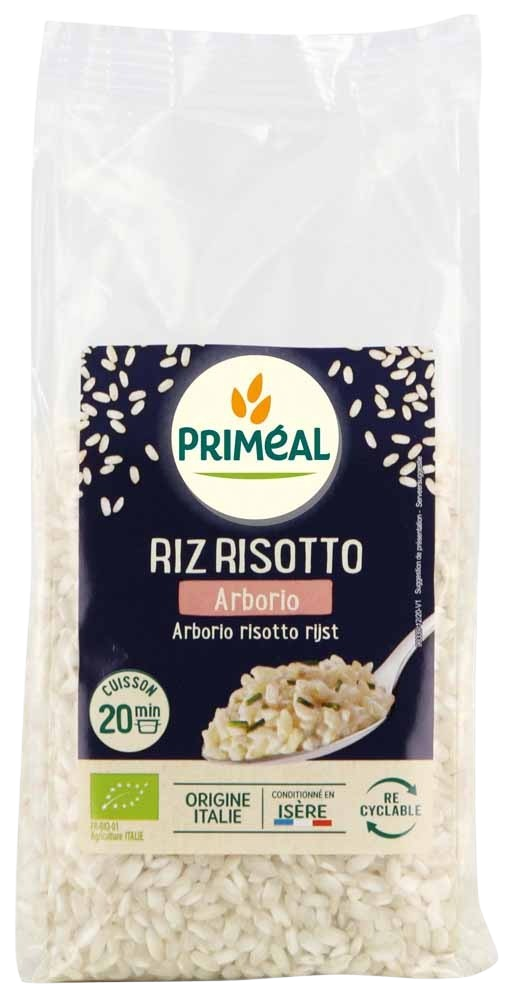 WHITE ARBORIO RICE 500G
From organic farming
Net weight : 0,5 kg
Cooking : 20 mn
Commitments
Recyclable packaging
Description
Italian Arborio rice has a soft exterior and a firm interior. It is ideal for making risottos.
Ingredients
White arborio rice*.



*organically grown
Detailed preparation advice
Fry 1 part rice in a little fat. Stir until the grains start to become translucent. Gradually add at least two parts hot stock and continue with the chosen risotto recipe (about 20 min).
Where to buy
Nutritional values
Energy value
1 480 kj / 348 kcal
Fat content


of which saturated fatty acids

0,7 g


0,3 g

Carbohydrates


of which sugars

78,4 g


0,4 g

Fibers
1,4 g
Protein
7,2 g
Salt
0,02 g
Additional information
Store in a dry, temperate place, away from light
Italy agriculture
Our current inspirations
Don't miss out!