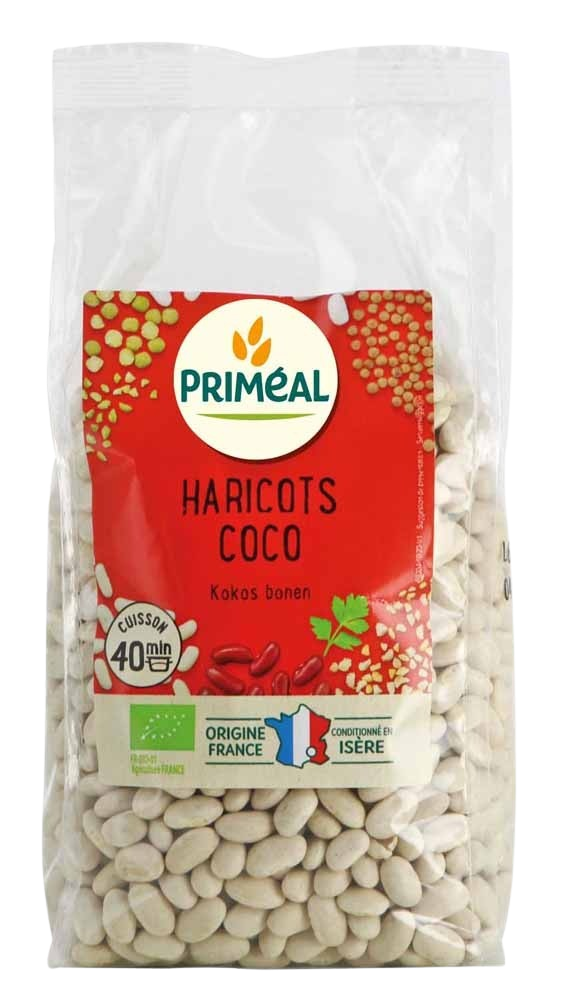 COCO BEANS FROM FRANCE 500G
From organic farming
Net weight : 0,5 kg
Cooking : 40 mn
Commitments
Originie France
Recyclable packaging
Description
Priméal organic coco beans are grown in France. They are perfect for a healthy, balanced and protein-rich dish or side dish.
Ingredients
White coco beans* (Phaseolus vulgaris)



*organically grown
Intolérances :
GLUTEN
Detailed preparation advice
Soak overnight and then bring to the boil for 2 minutes. Drain and cook over low heat for 40 to 60 minutes in water with herbs and kombu seaweed. Eat cold in salads with fresh vegetables and herbs or hot in stews.
Where to buy
Nutritional values
Energy value
1 232 kj / 293 kcal
Fat content


of which saturated fatty acids

1,9 g


0,3 g

Carbohydrates


of which sugars

39,0 g


2,4 g

Fibers
19,0 g
Protein
20,4 g
Salt
0,1 g
Additional information
Store in a dry, temperate place, protected from light
Rich in protein