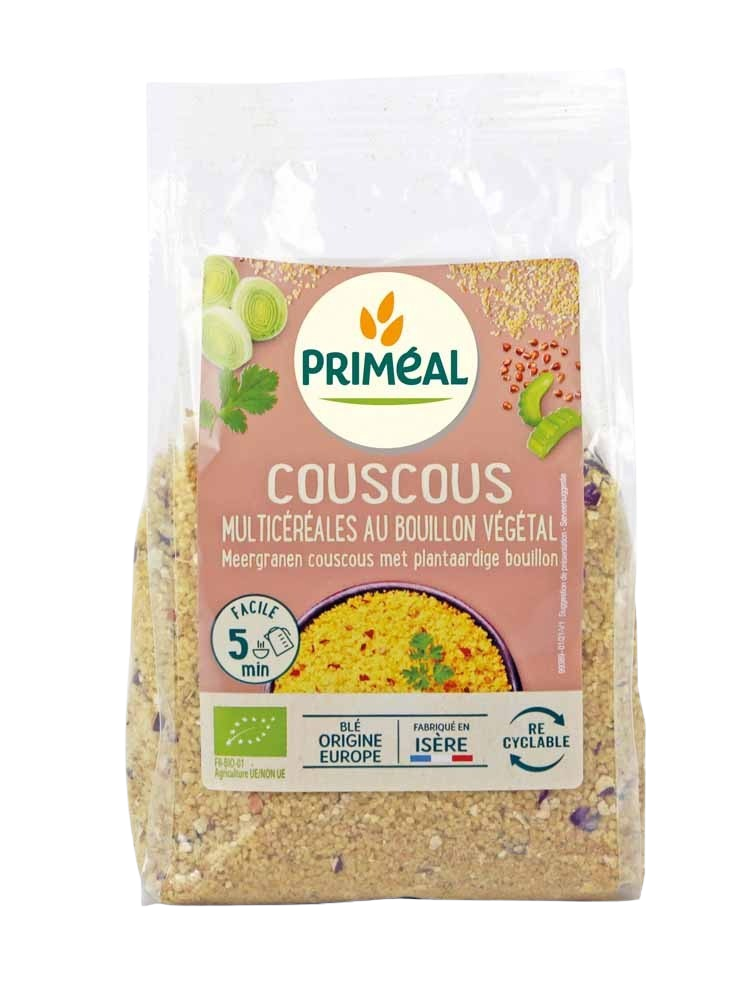 MULTI CEREALS COUSCOUS 300G
From organic farming
Net weight : 0,3 kg
Cooking : 5 mn
Commitments
FRANCE
Recyclable packaging
Description
Enjoy this multigrain couscous in a vegetable broth. The cereals in it will add lots of flavour to your meals!
Ingredients
Multi cereal couscous* (88%), durum white semolina*, durum whole semolina*, khorasan kamut ®* (gluten), spelt* (gluten), corn*), azuki flakes*, kasha*, (roasted buckwheat), vegetable broth* (onion*, coriander*, turmeric*, celery*, olive oil*, carrot*, garlic*, leeks*, pepper*, parsley*), sea salt.



*Organically grown
Intolérances :
Gluten, Soya, nuts, sesame and lupin
Detailed preparation advice
Pour 1 part mixture into a bowl, add 1 vol. of boiling water, cover, leave to swell for 5 minutes, then fluff with a fork. Season to taste and enjoy hot or cold.
Where to buy
Nutritional values
Energy value
1 513 kj / 357 kcal
Fat content


of which saturated fatty acids

2,1 g


0,5 g

Carbohydrates


of which sugars

70,5 g


2,0 g

Fibers
4,3 g
Protein
11,9 g
Salt
1,5 g
Additional information
Keep in a dry place, at room temperature away from sunlight.
EU/ Non EU Agriculture
Source of protein.