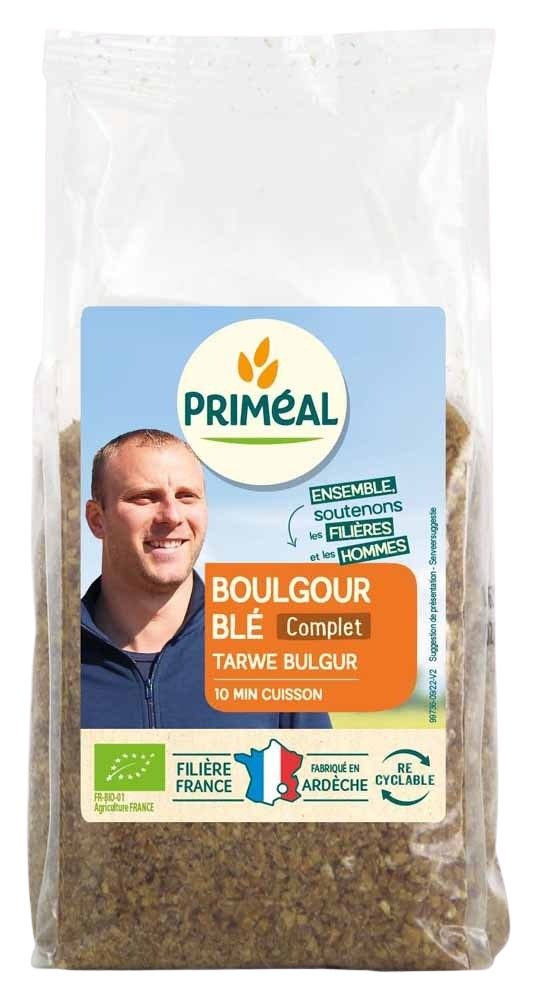 WHOLEMEAL WHEAT BULGUR FROM FRANCE 400G
From organic farming
Net weight : 0,4 kg
Cooking : 10 mn
Commitments
Originie France
Recyclable packaging
Description
Priméal has selected wholemeal wheat from our French production chain for this bulgur to help promote local agriculture.
Ingredients
Pre-cooked and crushed durum wheat*. *from organic farming
Intolérances :
Soya, lupin, nuts, sesame.
Detailed preparation advice
Put 1 part bulgur in 2 parts water. Bring to the boil, then cover and simmer over a medium heat until all the water is absorbed (about 10 minutes). At the end of the cooking time, remove from the heat and leave to rest for 5 minutes, covered. Season to taste. To be eaten hot as a side dish or cold in a salad.
Where to buy
Nutritional values
Energy value
1 432 kj / 339 kcal
Fat content


of which saturated fatty acids

1,9 g


0,3 g

Carbohydrates


of which sugars

62,0 g


0,9 g

Fibers
13,0 g
Protein
12,0 g
Salt
0,02 g
Additional information
Keep in a cool and dry place, away from sunlight.
Source of protein and fiber
Our current inspirations
Don't miss out!